Purchasing life insurance is a big deal. If you want to be sure your family is covered if something happens to you, choosing the right policy is imperative. Whether you're looking for the average policy cost or more in-depth knowledge, such as the largest life insurance companies, you can find answers in the facts about life insurance below.
9 Life Insurance Facts
9 Life Insurance Facts
70 percent of people said they needed a life insurance policy in 2020, according to LIMRA.
The same study found that only 54 percent of Americans actually had life insurance coverage.
29 percent of people prefer to purchase life insurance through an online form, an 8 percent increase since 2011, according to the same study.
After-tax income for the life insurance and annuity industries fell 50 percent in 2020 compared to the previous year, according to S&P Global.
The average cost of a life insurance premium for a 50-year-old is more than twice as expensive as it is for a 20-year-old, according to data from ValuePenguin.
COVID-19 prompted 1 in 5 Americans to purchase life insurance, according to a recent survey by LIMRA and Life Happens.
33 percent of people don't think they would qualify for life insurance, according to the same study.
The above study also found that 50 percent of people overestimate the cost of life insurance more than three times what it actually costs.
The average life insurance payout is roughly $168,000 in the U.S., according to data collected by Statista.
Average Life Insurance Cost
The cost of life insurance varies depending on your age, medical history and the type of insurance you're looking for. For example, term life coverage will be more affordable than whole or permanent life insurance.
Term Life vs. Permanent Life
Term Life Insurance:
Permanent Life Insurance:

Provides coverage during a specific time of your life
Terms often last 10, 20 or 30 years
More affordable than whole life

Never expires
Builds cash value
Can be up to 10 times more expensive than term life policies
No matter which type of policy you sign up for, you'll have to pay an insurance premium each month to keep the coverage. Look at the average life insurance rates by age chart below to get an idea of how much you may pay per month.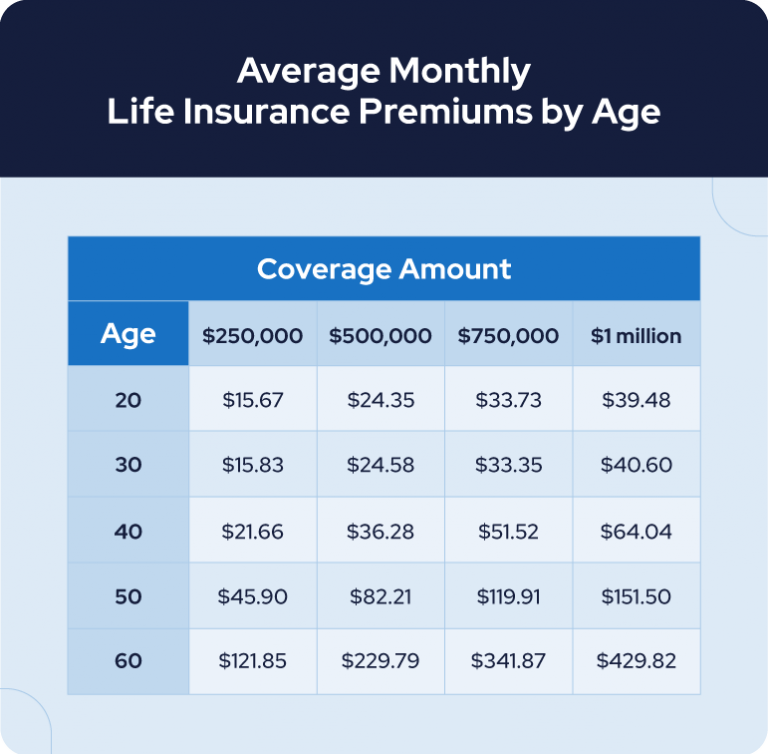 This data was found by Policygenius using sample premiums for non-smokers with a Preferred health rating.
Average Life Insurance Payout
According to the head of customer acquisition at Haven Life, the average life insurance payout, or policy face value, at their company is roughly $618,000.
Keep in mind that every insurance company will likely have different averages based on their location and typical customer demographic. Data from Statista shows an overall average life insurance payout in the U.S. of $168,000.
Your payout value, or face amount, is the sum of money that will be paid to your beneficiaries if you pass away, so it's important to determine how much you'll want to leave behind. Maybe it will only be around $168,000, or maybe you'd rather leave closer to $1 million. Whatever you decide, make sure it's right for your family and circumstances.
How Many People Have Life Insurance?
There are many long-term financial benefits to having life insurance, including tax-free payouts and accumulated cash value that can supplement retirement income. So how many people have life insurance and possibly benefit from such gains?
According to LIMRA, only 54 percent of Americans had a life insurance policy in 2020, even though 70 percent said they needed such insurance. This same study found that 39 percent of people had an individual plan and only 25 percent had an insurance policy from a group plan.
States With the Greatest and Least Life Insurance Coverage
While life insurance companies account for different shares of the market, the same is true for individual states. States with larger populations are more likely to have greater sums of money in the life insurance industry.
Below is a breakdown of the amount of life insurance purchased in each state in 2018, according to data from Statista. The amounts are in billions of dollars.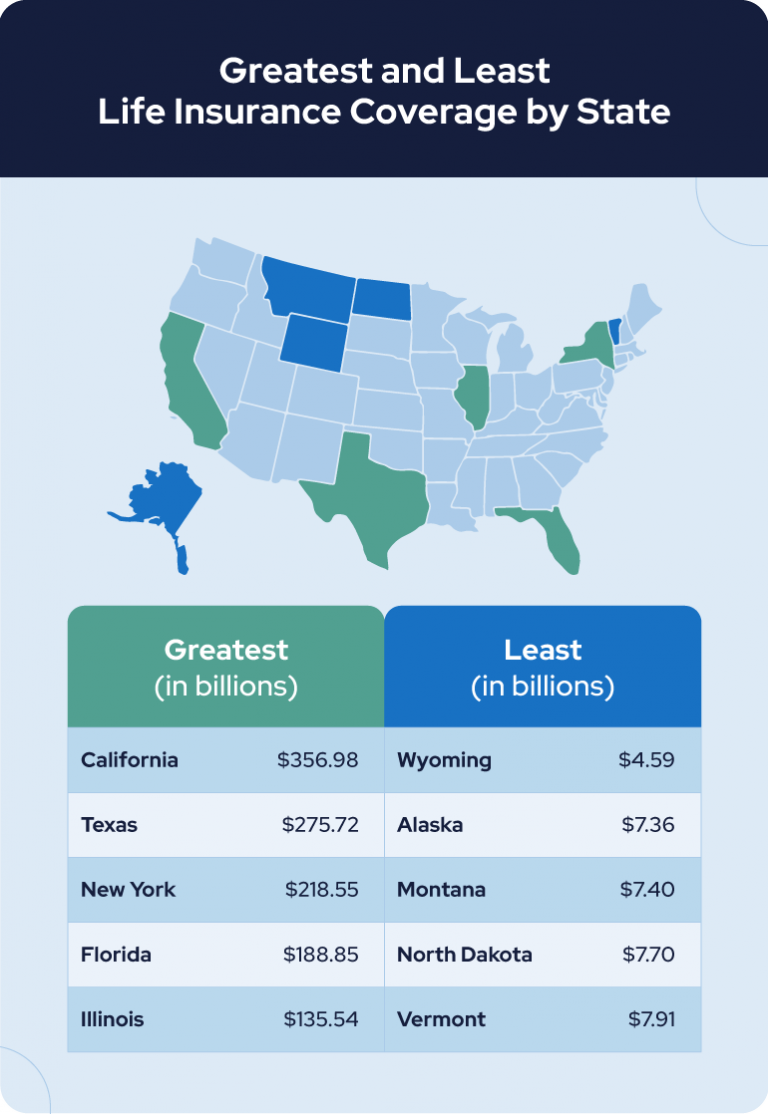 Life Insurance Claims Statistics
Life insurance claims for 2020 totaled $747 billion, a $14 billion decrease from 2019 and a $35 billion decrease from 2018, according to data from the Insurance Information Institute.
Surrender benefits and withdrawals account for the largest portion of the $747 billion at a total of $323 billion. Disability, accident and health benefits account for $137 billion, and annuity benefits account for $86 billion.
Biggest Life Insurance Companies by Market Cap
Market capitalization is the total value of a company traded on the stock market. Companies with a large capitalization (often $10 billion or more) are more established and well known.
According to Statista, the two largest life insurance companies in the U.S. based on their market cap are MetLife at $53.57 billion and Aflac at $35.5 billion.
Largest life insurance companies by world region include: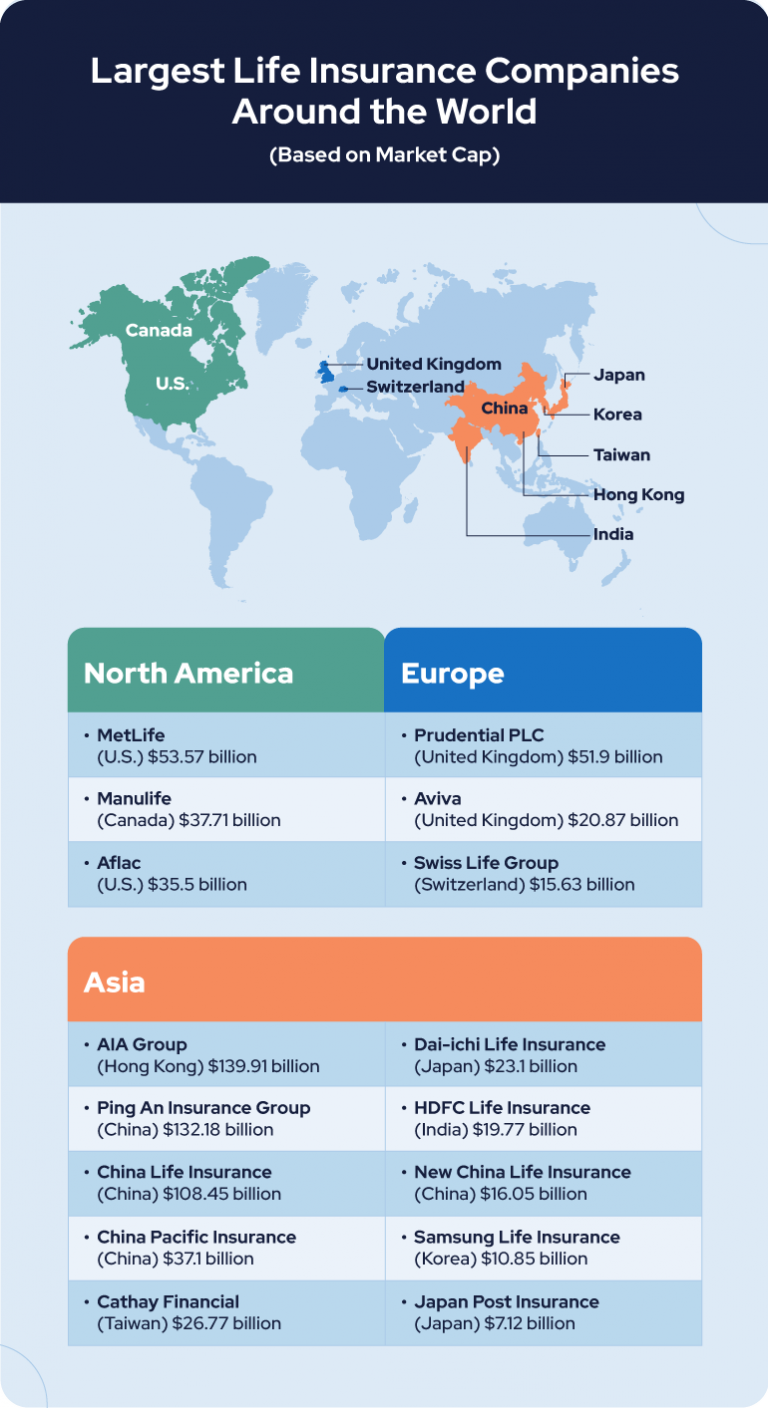 https://www.retireguide.com/life-insurance/statistics/